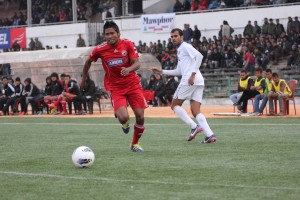 Shillong Lajong FC held defending champions Dempo SC in the 16th round of the I-League at the JN Stadium Shillong to a goalless yet action packed draw.
The Reds started the first half brightly with more ball possession compared to the Goans and created many scoring chances for the home team but were really unlucky to miss out on taking the well deserved lead.
In the 25th minute it was Lajong once again who could have taken the lead when Lalchuanmawia's cross found Friday but the former Mumbai FC striker failed to convert the half chance.
The visitors then had their own  chance to break the hearts of the Lajong's Faithfuls  in the 15th minute but Samir Naik put the ball  wide of the goal .The first half ended goalless ,with the second half tantalising poised for a climax-like finishing to the game. The game was made even livelier with an electrifying half-time performance by the Voice of Lajong winners, Kyrshan Suphai and Ribhakupar Shadap ,who were accompanied by a group of chidren between ages 8-10.
In the second half Lajong Coach, Desmond Bulpin made three significant changes in the match , bringing in Jacob for Lalramluaha in the 46th minute, Renedy Singh for Ebi Sukore in the 61st while Boithang replaced Jibon Singh in the 79th minute. The entry of Renedy and Jacob saw the Reds digging in further into the Dempo defence, and Renedy almost made an immediate impact, when he came quite close in the 62nd minute. Lajong's game picked up a notch as they went all out for the lead, but the reigning Champions countered in almost equal fashion but were kept out by some superb defending by the Lajong backline.
Dempo SC also used all of their substitutions, bringing in Selwyn Fernandes for Mahesh Gawli in the 46th minute, Joy Ferrao for Anthony Periera and Nicolav Borges for Indian international Clifford Miranda in the 87th minute.
The visiting side looked threatening on a few occasions in the closing stages of the match , but never really looked like converting the chances ,as the match eventually fizzled out to a goalless draw, which once again , betrayed the real character of the match.
Lalchhuanmawia was awarded the Man of the Match for his stellar display on the field.
.