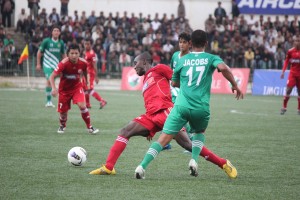 Shillong Lajong FC kept intact their unbeatable streak at their home fortress, when they played out a 1-1 draw, against Salgaocar SC, in the second match of the I-League 2012-13 season, at the JN Stadium Shillong . The second home game for the Reds turned out to be an intensely contested encounter  against  the Goan side, as both sides shared an equal number of chances in front of goal and had equal ball possession as well.
After a goalless and a subtle, but controlled first half, Salgaocar took the lead, with Angel converting from a free kick in the 52'. But the lead was short lived, as Ebi Sukore equalised for Shillong Lajong FC in the 53' ,to gave the Reds that extra push for the winner.
However, a stout defensive performance from both the sides saw the teams sharing points,  with nothing to weigh between the teams. At times it looked like either side could take the lead, but many chances went a begging, much to the disappointment of the packed J N Complex. All in all it was a match wherein one team matched the other in all departments of the game, and it was the home team with the last shot of the match when the referee decided to blow his final whistle, ensuring that both teams would take home a point apiece.