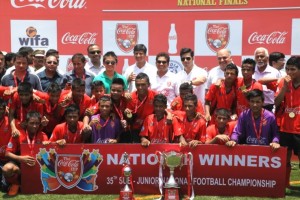 Meghalaya defeated Orissa by a solitary goal to emerge Champions in the Coca Cola U-16 National Championship. Ronaldkydom Nonglait made the difference between the two teams in the 38th minute.
The Final was played in front of a capacity crowd of 5000 at the Navi Mumbai Father Agnel Sports Complex, the Home to the AIFF Navi Mumbai Regional Academy boys.
Ronald ran down the right flank, dribbled his way into the box and unleashed a shot which beat the rival goalkeeper hands down.
Watched by National Team Captain Sunil Chhetri and Master Blaster Sachin Tendulkar, Meghalaya dominated proceedings in both halves. They stitched some wonderful passes between them which kept the rivals on their toes.
AIFF Technical Director Rob Baan and AIFF Technical Director for Academies, Scott O'Donell was also present on the occasion.
Speaking on the occasion, Tendulkar said: I'm proud to be associated with the Coca Cola Cup and I'm sure it will offer a great platform for budding footballers. I keenly look forward to see many of the youngsters seizing this opportunity to showcase their talent."
"Emerging sportspersons in the country require similar grassroot initiatives and competitive platforms to unlock their true potential," he added.
National Team Captain Sunil Chhetri said he felt "nostalgic" watching the boys play. "Not long back, I was also playing in age-group Tournaments. I felt nostalgic seeing them play. There was a great display of talent and I wish they achieve their dreams," he opined.
"The Championship provides the opportunity for youngsters to test their skills. I need to thank AIFF and sponsors for the initiative."
Meghalaya Coach Jeffrey Walarphi complimented his boys for the achievement. "It was a tough challenge. After all it's an U-16 Tournament and I need to laud my boys for the manner they responded. They deserve the Title much more than anyone."
AIFF Vice-President Mr. Larsing Sawyan, also the Secretary of the Meghalaya Football Association congratulated the triumphant squad. "The boys have done a wonderful job. They have won a National Championship. We are very proud of them."
West Bengal had earlier defeated Sports Authority of India's U-16 boys to win the Tier II of the Championship on May 23.
(Courtesy: AIFF Media)