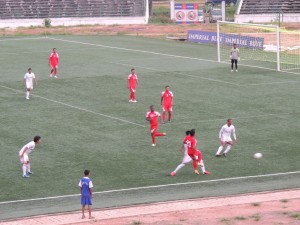 In what was a low scoring, but a closely fought Shillong Premier League 2nd Leg encounter at the J.N Stadium,Nangkiew Irat edged past Shillong Lajong Football Club 2-1,thanks to goals on either side of the break by Alfoster Sunn(38th minute) and Ezani Csukwononso (55th minute).Interestingly ,it was the Reds though,(who were in white jerseys today),who drew first blood ,when they got a corner in the 23rd minute and stopper back Wailadmi Passah scored in the ensuing goal mouth melee.
Shillong Lajong though,failed to capitalize on the first half lead, and although they created many chances, they failed to convert them into goal-scoring opportunities.Nagnkiew,on the other hand were looking dangerous on the counters and it was in one such that Alfoster scored,after receiving a high cross from the edge of the box.Ezani soon made it 2-1 to Nangkiew when he scored from close range to beat the Lajong keeper Basant Singh.
Shillong Lajong are now on 12 points and are sitting on 7th spot and will take on current table toppers Rangdajied United on the 12th of August.