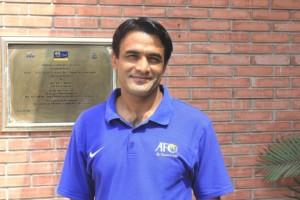 FIFA Referee Pratap Singh has been adjudged the Best Referee of the Year by the All India Football Federation (AIFF) while Biplab Poddar bagged the Best Assistant Referee of the Year award.
"This award means a lot to me. I am grateful to AIFF for recognising the efforts of referees in the country," Pratap Singh told www.the-aiff.com.
"This is a collective achievement. I would not like to take all the credit myself. The Referees Department and all the Referees under its umbrella should be lauded equally. On the pitch we all thrive to give the best and ensure the game remains 'beautiful.'
"This Award will not only motivate me to work harder, but all the Referees in India to give their best shot. This automatically will enhance the match quality," added the veteran Referee.
Head of Referees, AIFF Goutam Kar said: "I congratulate both of Pratap and Biplab for having worked hard throughout the last season. They fully deserve the Awards. Having said that, we always strive to improve, so I look forward to even better standards of refereeing in coming years to ensure Fairplay which stays on top of our agenda."
Mr. Pradip Nag, Vice Chairman Referees Committee added: "It is the most inspiring news and others must emulate their sporting achievement by means of diligent discharge of duties. I congratulate both of them."
The Referee & Assistant Referee Award has been in vogue since the First Edition of National Football League (rechristened as the I-League in 2007) from the year 1996.
(Courtesy: AIFF Media)