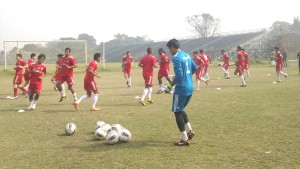 Pailan Arrows will host Shillong Lajong FC in the 17th round of the I-League encounter which will be held at the Salt Lake Stadium, Kolkata at 2PM on Sunday.
The Reds displayed a stunning performance at home against Pailan Arrows in November last year to win 3-1 against the AIFF developmental team with two goals coming from Sushil Kumar Singh and the third goal from Friday Gbeneme.
The North Eastern side will be looking for nothing less than a win and return home with all the three points which will be out for grabs tomorrow.
Sushil Kumar Singh who missed the game against Dempo due to suspension will be back to play in front for his team tomorrow. The encounter will be a pivotal one for the Reds who will look to consolidate their position further in the league table, and will seek to replicate their home performance against the Arrows.
The match will be live on Ten Action at 2PM.
Head To Head
I-League ‎                             28-Nov-2012    Shillong Lajong FC 3 – 1 Pailan Arrows
Federation Cup ‎‎                23-Sep-2012     Pailan Arrows 2 – 1 Shillong Lajong FC
I-League ‎‎                             05-Feb-2012     Pailan Arrows 0 – 2 Shillong Lajong FC
I-League ‎                             19-Nov-2011    Shillong Lajong FC 1 – 0 Pailan Arrows