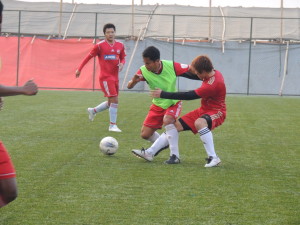 Shillong Lajong FC will host Air India in the 18th round of the I-League 2012-13 season at the Jawaharlal Nehru Stadium Shillong on the 28th January, Monday at 2PM.
The "Reds" are currently in the 9th position with 15 points and will look to secure all the three points against the visitors who are just one place behind with 14 points.
The Airmen hosted the North Easterners on the 16th of December last year and were held to a 1-1 draw by the visitors with goals coming from Souvik Chakrabarty and Boithang Haokip in the 69th and 85th minute respectively.
Coach Thangboi Singto who recently took over as interim coach of Shillong Lajong FC shared his thoughts about tomorrow's game and said," I have been coaching and been with the team for a very long time now. The boys are great but my only concern is that there are many players who are injured right now and are not 100 percent fit. So we will field whatever players we have right now who are also very capable and I believe in them and also hope that some of our crucial players return back from injury soon."
Coach Thangboi further said, "There is no drastic change in the strategy because there is no time to work on anything extra right now. We are doing the best we can and working not just individually but collectively. We respect all the teams who are in the I-League and we will continue to give 100 percent commitment."
"We have to keep working hard and we will take one match at a time. We hope to grab the three points tomorrow and make our fans happy with some new changes that has been brought in the team", he concluded.
The North Easterners will look to turn things around when they face Air India tomorrow, who are also a very tough and competitive side and will settle for nothing less than a win.
HEAD TO HEAD
I-League ‎                           16-Dec-2012  Air India 1 – 1Shillong Lajong FC
I-League ‎                           14-Jan-2012   Air India 0 – 0 Shillong Lajong FC   
I-League ‎                           10-Nov-2011  Shillong Lajong FC 0 – 0 Air India   
I-League ‎                           31-Mar-2010 Air India 1 – 1 Shillong Lajong FC   
Federation Cup ‎            22-Dec-2009  Air India 2 – 2 Shillong Lajong FC