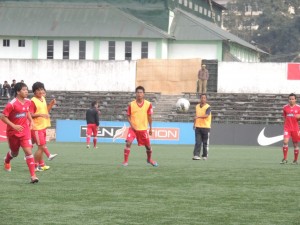 Shillong Lajong FC will host Pune FC in the 13th round of the I-League which will be held at the JN Stadium tomorrow at 2PM.
Shillong Lajong is currently in the 8th position with 13 points and will be looking to grab all the three points at their home ground tomorrow.
SLFC Head Coach Desmond Bulpin said that the team is looking for a win tomorrow but the home side will miss the services of certain players due to injury.
Bulpin also mentioned that there will be 4 boys who are just 17 years old sitting on the bench for the game against Pune FC.
"If we perform as well as we trained, we can beat any team. And at home we are always the stronger side but it is important that the team improves its away form."
He also said that, "lower ranked teams are doing much better now compared to the last season and the league is getting very competitive."
Shillong Lajong will be looking to turn things around this time and will look to bank upon the home support, known to be one of the most passionate fans in this part of the country.
Head to Head:
I-League ‎                             28-Jan-2012      Shillong Lajong FC 1 – 1 Pune FC
I-League ‎                             22-Oct-2011     Pune FC 0 – 0 Shillong Lajong FC
I-League ‎                             20-Mar-2010    Shillong Lajong FC 1 – 0 Pune FC
Federation Cup ‎               27-Dec-2009     Shillong Lajong FC 1 – 1 Pune FC
I-League ‎‎                             08-Nov-2009    Pune FC 1 – 1 Shillong Lajong FC