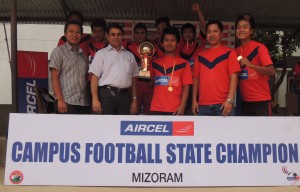 Ramhlun Venglai FC are the winning team from Aizawl in the Aircel Five A Side Campus Football Tournament which was held at the Zarkawt High School Field on Friday.
A total of 32 teams competed in the five a side football tournament organised by Aircel in association with Shillong Lajong FC.
Under an overall bright and sunny day, all the teams displayed their teamwork and skills in the 5 a side format tournament, until two teams emerged as the finalists, namely Ramhlun Venglai FC & 7 Boys United. The two teams played a scoreless draw in normal time hence the final game went into penalty shoot-out. In the end it was Ramhlum Venglai FC who defeated their opponents with a 6-5 score line to win the Aizawl leg and advance to the grand finale to be held in Shillong on 18th May.
It may be mentioned that, the tournament kicked off in Shillong on the 12th April and SAI were the winning team while the second leg was conducted in Imphal on the 19th April and ASL came out victorious out of the 32 skilful and talented teams that took part in the campus football tournament.
Dimapur will be the fourth city to host the tournament on the 6th May where as the final leg will be held in Guwahati on the 10th May.
For registrations in Dimapur interested teams can contact 98561-99164. Limited entries only-last day to register is on 4th May.
The 5 finalists will travel to Shillong next month and fight for the ultimate cash prize of Rs.2 Lacs and the best player of the tournament aptly called "The Aircel Star of Lajong" will get to stay and train with I-League Club Shillong Lajong FC for a week.