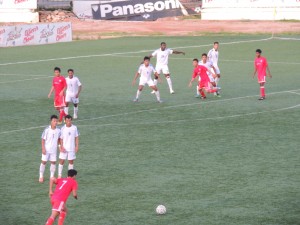 In what was promised to be an exciting Shillong Premier League encounter,Rangdajied United strolled past Shillong Lajong Football Club,putting in 3 goals in the process,without conceding one.
All the three goals came in the first half of the match,and were scored by Kelechi Jaribi(4th minute),Bansharai Sunn(37th minute) and Babatunde(45th minute).Shillong Lajong,who fielded most of their Under-19 squad, never recovered from the early first half goals,although they did created many chances of reducing the deficit,especially in the latter stages of the match.
Rangdajied United,the club earlier known as Ar-Hima, seemed to have got a new lease of life with the change of name,as they are now on an unbeaten run of 5 matches,and have pocketed all 15 points,which also means that they are sitting pretty at the top of the League table.Shillong Lajong,on the other hand have 7 points,having played a game less than their opponents,and are currently in 3rd position of the table.
Shillong Lajong will take on Langsning FC in their next game,while Rangdajied United squares off against Malki SC in their next fixture.