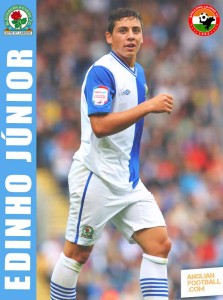 Edinho Jr Joins I-League Club Shillong Lajong On Loan From Blackburn Rovers
Life indeed has come full circle for Indian football. Years after Baichung Bhutia made the move across two continents to join an England-based club; Edon Júnior Viegas do Amaral (popularly known as Edinho Júnior) a striker from the former Premier League Champions Blackburn Rovers, will be donning the red of Shillong Lajong Football Club and plying his trade in the Indian I-League.
Edinho will be joining the Shillong-based club on a short-term loan beginning February 16, 2013. He is a Portuguese national of Brazilian origin who moved to Blackburn Rovers from Olhanense.  The 18 year old plays centre-forward and is the son of a former Brazilian international footballer, Edon do Amaral Neto.
The signing of Edinho will add impetus to Shillong Lajong's campaign for the remainder of the 2012-13 season. It will add an edge to the club's striking options. Lajong's story and place in Indian football is truly historic. It became the first club from North-East India to have qualified for the I-League, India's premier football league, and have been performing admirably well since then amongst the big boys of Indian football.
At the forefront of the development of football in the country, Shillong Lajong recently became the first-ever Indian football club to have had a strategic stake taken by Anglian Holdings. The Meghalaya-based club boasts of an impressive youth system as well. With an eye to aid in the development of Indian football, Anglian Holdings has also invested in Danish 1st Division Club FC
Vestsjaelland to provide a platform for fledgling Indian football talent to ply their trade in Europe. Much in the same vein, India-based V H Group, took charge at former Premier League Champions Blackburn Rovers to announce the arrival of the Indian football story on the world stage. The loan move for Edinho signals a consolidated effort to provide a powerful push for the sport in India.
Commenting on this development Balaji Rao, Managing Director of Venky's, says "We are pleased to be associated with Shillong Lajong FC through the loan of young Edinho. We look forward to opportunities to help develop our players and football in India through strategic partnerships."
Larsing Ming Sawyan, General Secretary Shillong Lajong Football Club, added "We are thankful to Blackburn Rovers for providing us with a player of Edinho's quality. He will be an incisive edge to Lajong's forward line and will definitely add to the quality of the game on the field."
Dhruv Ratra, CEO-Sports & Marketing Anglian Holdings, summarized the deal by saying "This exchange of talent – a first of its kind in Indian football – will set a precedent for future exchanges of knowledge and information which in turn will help drive the game of football forward in India. Edinho is an exciting young player and Indian fans will enjoy his exploits on the field."
About Blackburn Rovers:
Established in 1875, Blackburn Rovers is one of only three clubs to be founder members of both the Football League and the Premier League. The six-time FA Cup winners claimed the ultimate prize in English football in 1994-95 when they were crowned Premiership champions. A new era dawned at Ewood Park in November 2010, when Venky's London Ltd took ownership of the club from the Jack Walker Trust. Rovers' 11-year stay in the top flight came to an end last season, but under new manager Michael Appleton, the Lancashire club are looking to make an immediate return.
About Shillong Lajong FC:
Shillong Lajong FC is a top division I-League club established in 1983 in Shillong, Meghalaya with the prime objective of improving the standard of football in the region, and to spot, train and
nurture local talent. Headquartered in Shillong, Lajong has access to the youth population in the North-East and hence the football talent right from a young age. Lajong has a large established fan base in the North-East; one which is rapidly expanding across the country as well as the sub-continent.
About Anglian Holdings:
Anglian Holdings is a multi-national conglomerate with a strong focus on Indian sports. It has been building a channel between India and Europe through its investments in Shillong Lajong FC and FC Vestsjælland, a 1st division Danish football club. Its football subsidiary, Anglian Football, has been creating buzz and interest amongst fans in India with various engaging football properties such as music videos, photographs, mobile applications, console games, online TV channels, as well as articles & blogs on the beautiful game and its India connection.