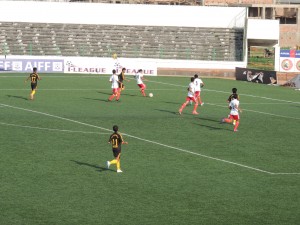 Royal Wahingdoh FC defeated Shillong Lajong FC 3-1, in the last match of the Shillong Premier League Under 19 tournament at the JN Stadium Shillong.
In the first half, RWFC dominated the proceedings and took an early lead when Eijingmut Lyngdoh found the back of the net in the 14'.
In the 22' Budmiki Laitiam doubled the lead and RWFC went into the break with a 2 goal advantage.
After the lemon break, Shillong Lajong FC boys came out much stronger and finnaly breached the Royal Wahingdoh defence in the 71'  when they scored with a superb long range shot  from Donborlang Nongkynrih.
Lajong went on the offensive mode and pressed hard in search of the equaliser but failed to convert several chances. Royal Wahingdoh who had more ball possession, netted their third goal of the match in the 73',cancelling out any possibility of a Lajong comeback.
With this match Nangkiew Irat SC have emerged as the champions of the Shillong Premier League U-19 tournament and Royal Wahingdoh FC grabbed the second spot.