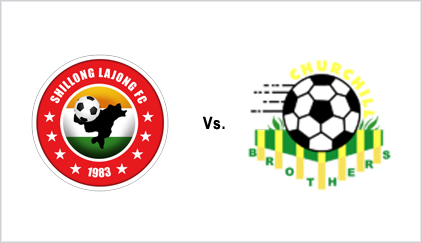 Shillong Lajong put an end to their woeful run in the I-League of late with a solid performance that earned them a point against Churchill Brothers at home. The match ended 0-0, which piles further pressure on defending champions Churchill, who are struggling to keep pace in the title race.
Shillong Lajong 0 – 0 Churchill Brothers
I-League Results/ Standings
Shillong ended the year 2009 on a high note after capturing the hearts of millions by marching onto the Federation Cup finals. But since then their form in the League has been poor at best. In the last three outings Stanley Rosario's side have conceded as many as 9 goals.
While Churchill were boosted by the presence of their captain and goal machine Odafa Onyeka Okolie, the Shillong defence was missing their dependable full back Boithang Hoakip. Shillong had earlier successfully defeated the defending champions in the Federation Cup when a poacher's goal from Tuboi Singh made the difference.
The home side adopted a defensive formation keeping in mind the formidable attacking strength of Churchill Brothers, and defender Daniel Bidemi was given the responsibility to keep an eye on his compatriots Felix and Odafa.
The first chance of the game fell for Lajong when a good cross from Anil Gurung found the unmarked James Giblee in the Churchill penalty box, but the midfielder failed to control his header as he drove the ball way above the bar.
Immediately after this move Churchill launched a series of attacks resulting in a couple of set pieces won by the Goan side. An inch perfect and well executed corner had found Indian national team defender Gouramangi Singh who did very well to connect his head with it, but the ball went out off the bar.
With both sides cancelling each other for the first 60 minutes of the game, no real intentions was shown by either of them to take the extra risk to score till the final whistle was blown. Stanley Rosario, who had fielded a compact defensive line up for the match, was very successful in neutralizing the much-vaunted Nigerian trio of Churchill.
Lajong goalkeeper Guimpe Rime, who performed brilliantly through out the match and pulled off some amazing saves, was awarded the Man of the Match award. On a very unusual note, despite both teams playing some tough football yet the referee was kind enough not to showing a single card throughout the 90 minutes.
Churchill will next face Salgaocar at home meanwhile Shillong Lajong will have to make the short trip to Kolkata and face Chirag United next.