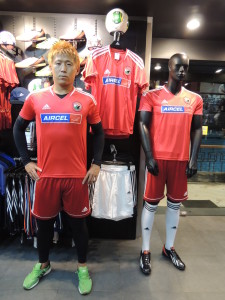 Shillong Lajong FC and adidas launched their all new Shillong Lajong official kit for the 2013-14 I-league season, in a glittering unveiling ceremony, which was held at the adidas Store in Shillong. The unveiling was made official by Shillong Lajong players including captain Minchol Son, vice-captain Wailadmi Passah and newly acquired International superstar Cornell Glen-all who also sported the new kit.
Commenting on the new kit, Captain Minchol Son said "The new kit feels great to wear and I can't wait to go in the field and wear it, alongside my team mates, and I'm sure the fans will love it too".
adidas also announced the launch of their I-league match day contest, aptly called 'adidas Shillong Lajong Challenge', wherein fans who buy the jerseys from the store will win a free I-league ticket and also stand a chance to participate in a halftime penalty shootout during Lajong's home games this season.
The new kit is available for fans at the adidas store, located in OB Shopping mall, Police Bazaar.