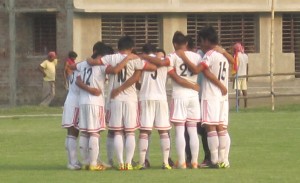 Shillong Lajong FC and Prayag United shared points after they played a goalless draw in the 3rd round of the I-League Under 20 final phase, at Kalyani West Bengal.
In the first half, both sides equally dominated the proceedings with Shillong Lajong FC having more chances but failed to convert the opportunities that came their way.
In the second half, Shillong Lajong produced a brilliant attacking game and dominated the Kolkatan side.
SLFC created several chances but were not able to find the back of the net as Prayag United's goalkeeper thwarted all their brilliant attempts on goal.
Shillong Lajong's manager, S. Challam, said that, "our boys played a wonderful game and that is what mattered the most."
He further added that, "We want to be in the top three this year. And it's tough but it is not impossible."
Shillong Lajong FC is at the third position in the League's standings and will take on Pune FC on the 15th of May 2012.