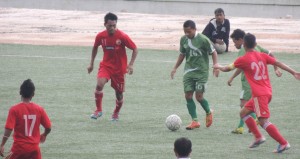 In what was their penultimate game of the 1st Division Shillong League, Shillong Lajong FC Juniors overcame a persistent Smit FC, who, on their part put up a superb display to make for a lively encounter at the J N Stadium on Monday.
The Junior  Reds, already assured of a Shillong Premier League berth, dealt the first blow, grabbing the lead as early as the 12th minute when Bipin Singh latched on to a superb pass from captain Redeem Tlang, to fire past the keeper  to give Lajong the well deserved lead.
Thereafter, Smit launched attack after attack in search for the equalizer, but found it difficult to get past the dogged Lajong backline. The 2nd half was more of a balanced affair, with the Lajong Juniors having better ball possession than their opponents. As the match wore on, a tussle ensued between the players of the two sides, in the dying minutes of the match, resulting in the sending off of 1 Smit FC player.
That was the last piece of action that the match saw, even as the Lajong Juniors ended the League undefeated. They will now face the winners of tomorrow's match between Imson FC and Boy Sports Coy, in the final, to determine the League winners.