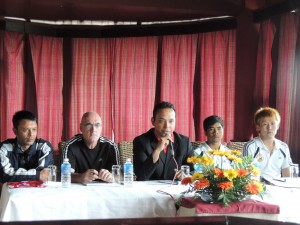 Shillong Lajong FC today officially signed Minchol Son, a defender from North Korea and Shillong Lajong FC Academy lad, Samuel Shadap, who signed his first professional contract , in a press conference that was held at Hotel Centre Point, Shillong.
Minchol Son previously played for FC Korea and was also part of the Korea National Football Team U-23.
The 25 year old defender said that he is happy to be part of Shillong Lajong FC , which is one of the  top clubs in India. He also said that, Shillong is a very beautiful place and the people are very hospitable.
"I started training with the team yesterday and I had a good time with the boys. They are all very friendly and the coach is also very understanding and helpful. I am looking forward to a good season with the team", he added.
Samuel Shadap of Shillong Lajong FC Academy signed his first professional contract with the club and has been added to the roster.
The 20 year old defender, featured in the North East Super Series and his impressive performance ensured him of a first team berth.
Shadap, joined Shillong Lajong FC Academy at the age of 14 in 2006 and has been one of the most promising wards of the Academy.
Head Coach of Shillong Lajong FC said that, Samuel is a  talented footballer  and has deserved his rightful place with the senior team. On Minchol Son, he remarked that the young defender is an exciting prospect and is hopeful that he will play an important role in Lajong's I-League campaign.
Shillong Lajong FC will face Kolkata giants Mohun Bagan in their opening encounter of the I-League 2012-13 Season on Saturday which will take place at the JN Stadium at 2.45PM.