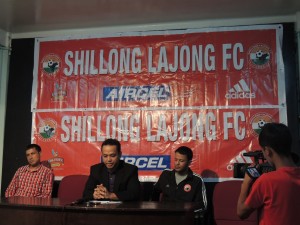 Shillong Lajong FC has appointed Scottish Football Coach, Desmond Donaldson "Des" Bulpin as the Head Coach of the senior team on a two year contract.
Desmond Bulpin is the former assistant to Gerry Francis at Tottenham Hotspur, QPR and Bristol Rovers and Ian Holloway at Plymouth and Leicester.  He is exceptional at identifying and developing young talent and with a wealth of experience and knowledge of the game, formed a fantastic partnership with Ian Holloway at Plymotuh where they achieved success beyond all expectations.  He's also been phenominal in bringing through young talent and often with limited resources.  Desmond is responsible for the development of around £90 million worth of talent including names such as: Peter Crouch (Stoke City and England), Kevin Gallen (Bristol Rovers), Nigel Quashie (formerly QPR, West Ham and Scotland), Nigel Martyn (formerly Leeds and England), Andy King (Leicester and Wales), Dan Gosling (Newcastle and England Under-21s), Ashley Barnes (Brighton) to name just a few.
The 61 year old Scottish Coach, worked as the Under-21 Manager of the Indian National Team and coached the first batch of Indian Arrows in the 2010/11.  He has achieved some incredible results such as:
1. The team finishing mid-table with a squad whose average age was 20.
2. Beat Burma to qualify for the next round of the Olympics where they played Qatar.
3. Drew with Qatar (who are at least 50 places ahead of India in the FIFA World Rankings table).
3. 10 of Desmond Bulpin players last season were promoted to the Senior National Team.
4 Four of those players played in the competition to help India qualify for the Asian Cup.
5. One of Desmond's players scored 4 goals for the full National Team in a recent international tournament and finished as the leading scorer in the competition and the domestic league.
Desmond Bulpin, the new head coach said that, "It is a privilege to join Shillong Lajong Football Club with one of the largest support base in Indian football club plus a Chairman and a Board of Directors who are building a Football Club through their academy. I look forward to working with the Supporters, Directors, Players and all the members Shillong Lajong to take the club forward to become one of the best clubs in India."
In a press conference that was held today at the Shillong Press Club, Larsing Ming Sawyan, General Secretary of the Club said that, "We are happy to have Desmond Bulpin join Lajong and we are hopeful that the experience that he brings with him will be highly beneficial to the I League team as well as our Youth development programme. Our objective over the next 2 years is to nurture talent across the North Eastern Region and with Desmond on board, I believe our plans have received a major fillip".
He also said that, Pradhyum Reddy will be in charge of the youth development program of the club.
Shillong Lajong FC has signed new contracts with I-League players namely, Jibon Singh from Pailan Arrows(Midfielder), Govin Singh from Sikkim United (Defender), Basant Singh also from Sikkim United (Goalkeeper) and Rollingson Hungyo of Pune FC (Defender) besides retaining the services of foreign recruit John D Menyongar, Renedy Singh, Sushil Kumar, Chitra Sen Singh, Wailadmi Passah and Eugeneson Lyngdoh. The Reds have also signed a short-term contract with Minchol Son, who is a North Korean U-23 National player.