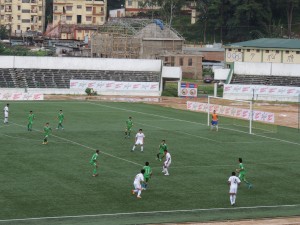 Shillong Lajong FC defeated Lawmali Pyllun SC, 1-0, in the ongoing Shillong Premier League at the JN Stadium Shillong, on Saturday.
In the first half, Shillong Lajong dominated the proceedings and deservedly drew first blood through Denis who found the back of the net in the 41st minute.
At the end of the first half, Shillong Lajong was leading 1-0.
In the second half, Shillong Lajong produced a brilliant attacking game and had more ball possession. Lawmali Pyllun SC pressed hard in search of the equaliser but Lajong thwarted any attempt made on goal by them.
The referee finally ended Lawmali Pyllun's woes when he blew the final whistle. It was Shillong Lajong FC who emerged victorious and will look to extend their winning streak in the Shillong Premier League.
With this win, SLFC has 7 points from three matches and is currently at the second position in the League's standings.
SLFC will take on Rangdajied United on the 10th of July at the JN Stadium Shillong, at 4pm.