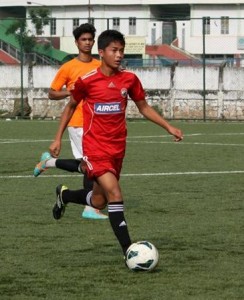 Putting on a display of high attacking football,the boys of Shillong Lajong FC cruised to  an  emphatic 8-0 win over local side Umphrup SS&CC, in what was a one-sided 1st Division Shillong League match at the JN Stadium, Shillong. Shanbor Jyrwa opened the floodgates as early as the 2nd minute and then doubled his tally in the 12th. That set the tone for the Reds as they scored  at will against the hapless Umphrup side.An own goal by Umphrup was also added in the mix,in the first half of the match.
Hardy Cliff Nongbri,one of Shillong Lajong's emerging youngsters, also registered his and his team's  first hattrick of the tournament,netting in the 29th,53rd and the 71st minute.Redeem Tlang .another local lad also stamped his name in the scoresheet in  the 43rd,while Bipin Singh completed the rout with a 75th minute strike.
With their 3rd consecutive win,the Shillong Lajong boys are now perched at the top of the table ,with 9 points from 3 matches,and will take on Imson FC in their next match,on the 30th of July 2013.
In the second match of the day,Shillong United were left to rue their inability to hold on to a 2 goal lead,as they were held to a  2-2 draw by Boy Sports Coy.