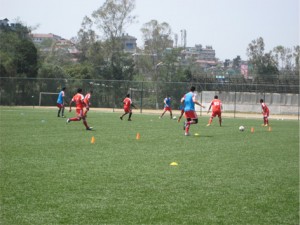 Shillong Lajong FC have started preparing for their I League fixture against Goan side Sporting Clube De Goa in full earnest today, at the 3rd Ground in Polo.
The team had a rigorous practice session and training drill, under the watchful eyes of Coach Pradhyum Reddy. With just 3 days to go for the match, the team could not afford to be complacent and will be looking to make full use of the home advantage to pocket all 3 points that are up for grabs.
Shillong Lajong is looking forward to turn their fortunes around, having lost their last away game 3-2 to Chirag United Kerela.