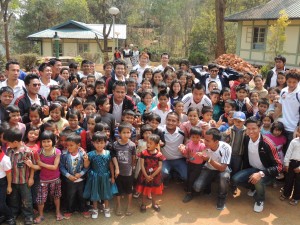 Shillong Lajong FC players and the management visited the SOS Village in Umiam on Saturday.
SOS Village which is a non-governmental international development organisation focuses on the needs of abandoned, destitute and orphaned children. The organisation provides family-based child care.
There are many children in the SOS Village, who are living without their biological families because of parental separation, domestic violence and neglect or diseases like AIDS etc.
The children living in the SOS Village are protected as well as supported to recover from being emotionally traumatised. The organisation also helps to protect the kids from the danger of being isolated, abused, exploited and deprived of their rights.
The Lajong team took time out from their busy schedule and spent time with the children of the SOS Village.
The players interacted with the children as well as got a chance to know and understand about their day to day routines.
It was indeed a very good experience for the team as well as the management of Shillong Lajong FC. The children were excited to meet the players and showed them their houses as well as their play ground.
It was heartening to see the bonding and special connection between the players and the children. The Club aims to conduct more CSR activities every season.