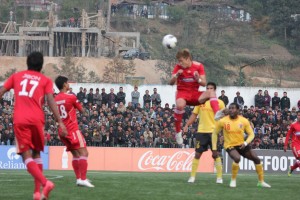 Shillong Lajong FC held  current table toppers Kingfisher East Bengal  to a goalless draw in the I-League round 9 at the JN Stadium Shillong on Saturday, a result which would seem "unfair" to the thousands who turned up, after a humdinger  of a match between the Bengal titans and the  North-East underdogs. At the end of the 90 minutes of play though, the Reds once again stood firm  against their formidable opponents, thus continuing their unbeaten run against Kolkata teams, making it four in a row, at home.
After a morale boosting win against Pailan Arrows, Shillong Lajong FC started brightly and looked the more threatening of the two teams , catching the East Bengal backline off guard time and again. Sushil Kumar,who single handedly buried the Arrows in the last game, once again played beautifully, teaming up with Friday Gbeneme upfront ,and was instrumental in the Reds offensive attacks. Chance after chance went a-begging for the home side, as the home crowd egged on the Reds, who were, quite clearly,  matching their fancied opponents punch for punch.
The Red and Gold Brigade though show glimpses of their brilliant form and came close to scoring a couple of times but were denied by the Lajong keeper Mawia. On the whole though, both team were creating chances  for themselves and this passage of play wore on till the half time whistle.
The second half continued from where the teams left off in the first, and the game took on a slugfest-like performance from both sides. The Reds though saw more of the ball and had more chances than the visiting side, but lacked the killer blow ,which would have put the game on an even more interesting poise. Dealing a final roll of the dice, Lajong Coach Desmond Bulpin brought on Boithang Haokip for warhorse Rennedy Singh, in the 87th minute ,to seek any chance of winning the game. That however did not materialised, as the game concluded with the home team's best possible chance of winning it late, when Sushil latched on to a fierce volley from just outside the box, but saw his sublime effort blocked by East Bengal custodian Gurpreet Singh Sandhu. That was that and both teams had to settle for a point a piece ,even as East Bengal failed to break the "Bengal Jinx" at Shillong.
Both coaches said that a point was a fair result for either side, while acknowledging the huge support from the home crowd for the game.East Bengal coach, Trevor Morgan said that he was happy with the result as he knew that Shillong Lajong would be a difficult team to beat,more so at home,while his counterpart,Desmond Bulpin said that it was a tight game,which could have been won by either side,while praising the Reds' spirit of fighting it out, till the last whistle.