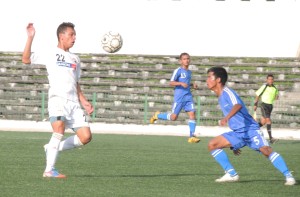 Shillong Lajong FC Juniors registered a 6-1 victory over Shillong United, in the ongoing First Division Shillong League Football Tournament at the JN Stadium Shillong on Saturday.
Throughout the game, it was Shillong Lajong who dominated the match and had more ball possession than Shillong United.
Shanbor gave Lajong the lead in the very first minute and has set the record of the fastest goal scored in the first division Shillong League.
Redeem Tlang doubled the lead in the half hour mark and Mauna made it 3-0 in the  43rd minute with a long range shot.
Lajong went into the break with a three goal cushion.
After the break, the Junior Boys of Shillong Lajong came out of the dressing room with the motive to score more goals and they did so when Redeem Tlang found the back of the net within a minute of the second half.
He then went on to complete his hat trick in the 80th minute.
After few minutes, Shillong United managed to pull one back but Lajong striker Redeem Tlang who was on a goal scoring spree, netted his fourth in the 89th minute, to hand Shillong Lajong FC Juniors a comfortable 6-1 win over Shillong United.
With this victory Shillong Lajong holds the top position in the League with 13 points and will take on Laitlyngkot on the 8th of August.