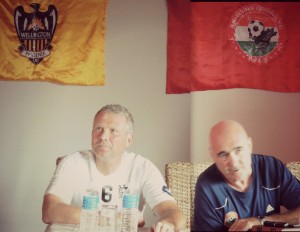 Shillong Lajong FC will look to grab the title of "Champions" of The North East Lajong Super Series, when they take on A-League side Wellington Phoenix, here in the J N Stadium, Shillong at 3:15 pm. On paper, the match looks game, set  and match to the New Zealanders, with names like Jeremy Brockie, Tony Lochhead, Ben Sigmund, Paul Ifill –the list of stars to grace the final  seem endless.
For the home side though , it is a an all too similar story of a David-Goliath proportion. No strangers to being the "underdogs" yet again, the North-East  side will look to upset their more experienced and stronger opponents with the same doggedness and resilient which have brought them to where they stand today. True, the odds are stacked against them, and the most recent encounter against Wellington Phoenix saw a 2-5 scoreline at Manipur, but fight they will-A characteristic which seem to have define Shillong Lajong FC  for all these years.
The Reds will also look up to a new Star, a new "scoring" Sensation of sorts-Friday Gbeneme , who has incredibly scored 5 astounding goals in 2 matches,along with his hard working attacking partner,Sushil Singh  and will hope that Johny Menyongar will be fit in time to add depth in the mid-field .
Indeed, come 3:15 this afternoon, all roads lead to the J N stadium in Polo, as Shillong Lajong seek to put one over the A-League side and  lift the maiden edition of the North East Lajong Super Series 2012.
A massive task is at hand for the Reds, but if they really battle, fight and attack the ball, another Goliath just might be toppled, yet again.