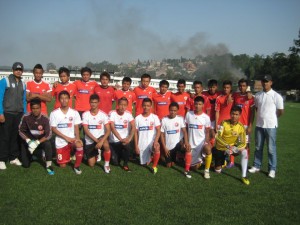 The Shillong Lajong Football Club Under-20 I League will kick off its Final Phase campaign against Mumbai FC, on Sunday, the 6th of May 2012.The team will be battling it out in Kalyani, against the other group qualifiers, which include Churchill Brothers, Pune FC, Prayag United , Dempo and Mumbai FC.
When asked about the morale of the team, Coach Bobby  L Nongbet said " the boys know that they will be playing against much tougher teams ,in the final phase. But the important thing is for the team to not lose focus,and try to make use of this opportunity, and to make it a memorable and useful experience."
The boys who are in Kalyani, are upbeat about their chances in the tournament, after a good outing in the first phase.
The Squad:
1)Aibormiki Suchiang
2)Banshanlang Sten
3)Sandeep Singh
4)Dorjee Tamang
5)Aibankupar Dohling
6)Lalrinzuala  Khiangte
7)Ksankupar Khongmalai
8)Ronald Zothanzama
9)Niewkorlang Kyndiah
10)Zodingliana
11)Jacob Lalrawngbawla
12)Norasius Kharumnuid
13)Rupert Nongrum
14)Donborlang Nongkynrih
15)Roikhihbha Nongtdu
16)Redeem Tlang
17)Gameliel Kharlyngdoh
18)Denis Mawphniang
19)Shaiborlang Kharpan
20)Lalnunmawia
Coach                           Bobby  L Nongbet
Team Manager              S.Challam
Team Physio                 B.J Tariang
Finals Phase Fixtures For I-League Under-20 Released
Venue:  Kalyani
| | | | | | |
| --- | --- | --- | --- | --- | --- |
| MATCH NO | DATE | HOME | | AWAY | ROUND |
| 1 | 06/05/2012 | Shillong Lajong FC | V/s | Mumbai FC | 1 |
| 2 | 06/05/2012 | Churchill Brothers | V/s | Pune FC | 1 |
| | | | | | |
| 3 | 07/05/2012 | Prayag United | V/s | Dempo | 1 |
| | | | | | |
| 4 | 09/05/2012 | Churchill Brothers | V/s | Shillong Lajong FC | 2 |
| 5 | 09/05/2012 | Mumbai FC | V/s | Prayag United | 2 |
| 6 | 10/05/2012 | Pune FC | V/s | Dempo | 2 |
| | | | | | |
| 7 | 12/05/2012 | Shillong Lajong FC | V/s | Prayag United | 3 |
| 8 | 12/05/2012 | Dempo | V/s | Churchill Brothers | 3 |
| 9 | 13/05/2012 | Pune FC | V/s | Mumbai FC | 3 |
| | | | | | |
| 10 | 15/05/2012 | Pune FC | V/s | Shillong Lajong FC | 4 |
| 11 | 15/05/2012 | Dempo | V/s | Mumbai FC | 4 |
| 12 | 16/05/2012 | Prayag United | V/s | Churchill Brothers | 4 |
| | | | | | |
| 13 | 18/05/2012 | Shillong Lajong FC | V/s | Dempo | 5 |
| 14 | 18/05/2012 | Pune FC | V/s | Prayag United | 5 |
| 15 | 19/05/2012 | Mumbai FC | V/s | Churchill Brothers | 5 |