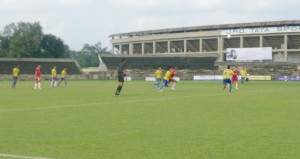 Shillong Lajong Football Club carried its  excellent home form into the Federation Cup, grabbing a last minute winner against Mumbai FC in the tournament opener, which was played at the Keenan Stadium in Jamshedpur. The Reds were on red hot form right   throughout the game , and from the start of the match ,it seemed that the historic Super Series win at home had still not lost its sheen on the team's morale. The team piled on wave after wave of attack on Mumbai 's goal, with the attack force of Friday, Sukore, and Boithang seemingly poised for goal with each attack.Shillong Lajong then took the deserving lead when they were awarded a penalty in the 45th minute. The talismanic Johny Menyongar stepped up and made no mistake in converting from the spot. That seemed to wake up the Mumbaikars, who  launched a counter attack and their efforts were rewarded, when they got the equalizer in the very next minute(45 +1) ,with ND Opara scoring for Mumbai FC.
The second half saw an evenly contested affair between the two teams, even as Shillong Lajong had more of possession and chances. The Reds came particularly close on two occasions, when they had a goal disallowed for offside and a near miss when the ball hit the upright, denying them of regaining the lead.
Bulpin then brought on two changes in the second half, with Eugeneson Lyngdoh coming on to replace Menyongar and Renedy Singh replacing Boithang Haokip. After what seemed to be an eternity, Shillong Lajong finally pocketed home all three points when, for what was another "Friday" rescue operation, the former Mumbai FC striker scored off a free kick in the 90th minute, to put the game beyond doubt.
Shillong Lajong Coach Desmond Bulpin said that he was quite satisfied with the team's overall performance,even though there were still areas to improve on, especially with the little time that the team has to prepare for the next game.
With this win, Shillong Lajong are sitting pretty on top of Group A, with Dempo SC and Pailan Arrows eking out a 1-1 draw in the other Group A opener. They will now square off against Goan giants and last season I-League Champions Dempo SC, on the 21st September 2012.