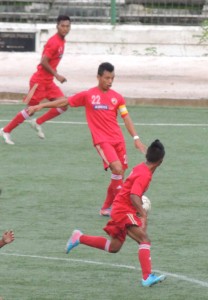 Shillong Lajong FC Juniors registered a 7-0 win over Lawmali Pyllun SC in the ongoing First Division Shillong League, at the JN Stadium Shillong on Tuesday.
The young boys in Red dominated throughout the match and were looking dangerous on several occasions.
Lalramuana netted in the 6th minute to put Lajong ahead against Lawmali Pyllun SC and Shanbor doubled the lead in the 30th minute.
Shillong Lajong Juniors were awarded a penalty and it was Captain Redeem Tlang who converted it in the 41st minute.
The Reds started the second half all guns blazing and scored two goals within two minutes, courtesy Angousanaluwang and Redeem Tlang in the 59th and 60th minute respectively.
Meanwhile Lawmali Lyllun tried creating chances for themselves but their efforts failed with Shillong Lajong having more ball possession and confidence.
In the 81st minute Jesterwell scored the 6th goal for Lajong and Redeem Tlang completed his hat trick in the 90th minute.
With two more games to go Lajong remain at the top of the table with 19 points and still remain unbeaten in the League so far.
Shillong Lajong will take on Nongkrem on the 20th of August at the JN Stadium Shillong at 4PM.