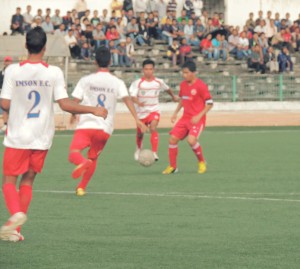 The J N Stadium once again played host to a huge turnout in the SSA First Division match ,which was played between Shillong Lajong FC and Imson FC ,a new entrant in the  Meghalaya football scene. The match was truly an exciting affair, with the presence of both the teams' supporters lending that extra bit of fanfare to the atmosphere.
As expected, it was Shillong Lajong -with a squad full of youth team players, who dominated possession right from the kick off whistle, and they looked the most likely to take the lead. Imson FC, though, surprised one and all , as they  rallied and countered with poise and precision ,even as the first half saw neither team breaking the deadlock.
The second half was much of the same affair, with Shillong Lajong seeking to find that much needed lead against the determined new team. A spark of joy came for the vocal Imson FC supporters when they were awarded a penalty in the later stages of the 2nd half, when  Sandip Singh handled the ball inside his own box. Sachin then duly stepped up to take the kick which would seemingly break the deadlock. However , Lajong keeper Nitin was equal  to the task ,as he guessed the right way and kept out the shot, to keep his team on course in the match.
As the game wore on ,it got more physical as both teams surged and scurried  to find the potential match –winning goal. That was not to be ,however, as the game ended as it started, with both teams having to share the spoils. Lajong are now on 13 points from 4 unbeaten games and will take on Shillong United on the 3rd of August.