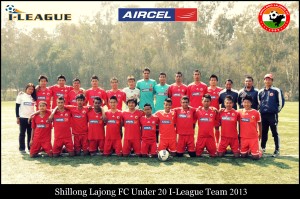 In what was a pulsating Under 20 I-League match at the JRD Tata Complex , in the sweltering heat of Jamshedpur,  Shillong Lajong FC and Churchill Brothers SC played out a goalless draw to share the spoils of the opening group encounter.
Both teams though ,had an equal number of missed opportunities to go in front, more so the Shillong Lajong side, who got off the blocks quickly and created the first real chance of the match through Bipin Singh. The Lajong juniors continued to have better ball possession and had at least 3 more chances in front of goal. before the break.
The second half though saw the Goans starting strongly as they started creating more chances to surge ahead. Shillong Lajong also matched their Goans counterparts play for play but neither side though were able to get that all important lead. The score line remained static at the end of 90 minutes of play  to ensure that both teams had to share a point a piece.
Commenting on the match, Coach Gumpe Rime said that it was a good first match and a good performance from both the teams, and commended the Lajong boys on adapting and adjusting quite well to the conditions in Jamshedpur. Gumpe also said that the team would take heart and inspiration from the result, which he considered to be satisfactory and once again lauded the team's performance ,which would go a long way in taking the team forward, League progresses.
In the other matches  of the Under 20 I-League Dempo Sc edged  out a determined Mumbai side by 2-1 goals while Mohun Bagan beat Air India by 2 goals to nil as did East Bengal ,who  registered their first win, blanking out ONGC by a solitary goal.