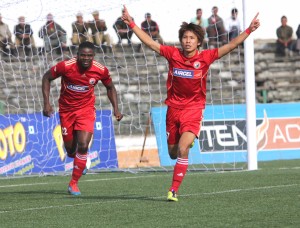 Shillong Lajong Football Club  earned a truly deserved  point against visiting side Air India in the 18th Round I-League encounter  which was played at the J.N Stadium ,Shillong-courtesy a very late equalizer from newly signed Japanese striker ,Sho Kamimura ,who shone quite brightly in his debut match for the Reds.
The Reds , started the match brightly ,and quite expectedly, as Kamimura started upfront with Friday Gbeneme. ,with the first sight on goal coming in as early as the 12th minute when Kamimura's shot was well stopped by the Airmen custodian, Jagroop Singh. But just when it seemed that the home side would take the lead, the Airmen surprised just about everyone when they surged ahead in the 17th minute of the match. Shillong Lajong conceded a throw-in and Nigerian striker E.N Henry scored from close range to make it 1-0 in  favor of the visitors. Stung by the goal, the Reds started playing with more attacking intent and tenacity and sure enough the equalizer came in the 38th minute ,when Sho Kamimura slotted the ball in from close range after controlling the ball beautifully off a header from Friday Gbeneme. The goal sparked off wild celebrations from the crowd, even as the half-time break saw both teams locked at 1-1 leaving the match poised for an exciting 2nd half.
Interim coach of Shillong Lajong Thangboi Singto then brought on Taisuke Matsugae another Japanese recruit to replace Friday Gbeneme as the home team looked set for the knock out punch. However it was once again the Airmen who regained the lead in the 66th minute, courtesy a Prakash Thorat goal . The onus was now on Shillong Lajong to respond back as the Reds brought on the experienced Sushil Kumar Singh for Lalramluaha Hmar. Air India also used all of their three substitutes, V Shetty coming for S Chakraborty (86th minute), S Gadkari coming on for goal scorer Pradeep Thorat (90+1) and M Pradeep replacing E. Junior (90+4).
The anxious crowd booed every substitution made by the visiting side as the clock ticked on towards the 90 minute mark. The Never-Say-Die spirit of the Reds once again came through in the dying minute of the match( 90+6)  when Sho once again made short work of the Airmen's defense line to find himself on a one-on-one with Jagroop Singh. The Japanese then kept his calm to coolly lob the ball over the keeper and into the net to salvage the match sending  the crowd into ruptures to ensure that Thangboi's first match would end in a well-deserved draw and a point apiece for the teams. Sho  Kamimura was awarded  Man-of-the-Match for his stupendous display in his first match for Shillong Lajong.