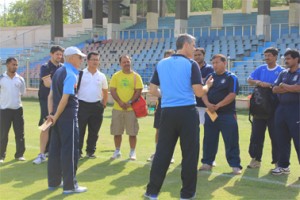 The All India Football Federation organised a three day coach's workshop (13th April-15th April), at the Ambedkar Stadium in New Delhi.
The Workshop was conducted by the AIFF Technical Director Mr. Rob Baan, who is also a Dutch football coach, along with Mr. Scott O'Donell  , who is the Technical Manager for Regional and Elite Academies. Rob Bann has come to India with the aim to improve and develop the standards of Indian football to the next level.
The workshop was attended by Thangboi Singto (Meghalaya), Satheevan Balan, Narayana Menon (both Kerala), Stanley Rozario (Karnataka), Subrata Bhattacharya, Satyabrata Bhowmick, Mridul Kanti Bannerjee, Ranjan Bhattacharya (all from Bengal), Anadi Barua (Delhi), Santanu Basu, Bidhan Das (both from Assam) and Keshav Dutt (Haryana)and Arthur Pappas(Australian).
The Workshop organised several Theoretical and Practical Sessions for the football coaches. The theory sessions were held at Clarks Inn, Lajpat Nagar while, the practical sessions took place at the Ambedkar Stadium.
Assistant Coach of Shillong Lajong Football Club,Thangboi Singto recently spoke at length about the 3 day workshop, his views and outlook on the Indian football scenario:
Thangboi observed that it has become very important for Indian football to develop and nurture its Coaches,and it is important to understand the basic fundamentals of coaching.
He also added that the AIFF is planning to set up four football academies in Mumbai, Kolkata, Bangalore and Delhi. This is a very serious mission as they want to select good people for their academies. They need people who can help them take their vision to a broader level.
Thangboi also gave a little insight into what the AIFF is planning to do in the next 2 years, which is:
1)Opening of four Football Academies
2) The selection process had already commenced in Mumbai, Mizoram, Cochin, Delhi, Manipur, etc. A total of 120 boys have been selected.
3) All these football academies will have a proper curriculum designed by Rob Bann where each academy will follow the same curriculum
4) Head coach with, an  "A" licence qualification for each of the Academies.
According to coach Thangboi Singto, there are many coaches who can do well and who are really talented. But there is a lot of work that needs to be done. AIFF concentrates in the field of coaching a lot especially the Coach's educational programme because India has not been able to improve the conditions of the sport compared to other countries. It is very much behind. When FIFA came, he said , India is a sleeping giant which has just started to wake up. Hence, if without a good coach the players also cannot do well and if the players are not good, the coach will have a tough time training them, as it all has to come from within.
He went on to say that coaching courses always benefit in some way or the other. Coaches from other places will also agree, as it really helps them a lot in terms of improving the kind of coaching and training given to the players.
Coach Thangboi signed off by saying that understanding the real problem of Indian Football and finding the solution to that problem is the need of the hour, for the betterment of Indian Football.