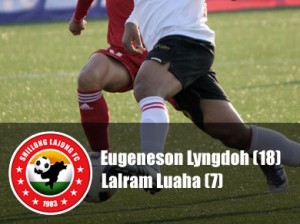 Eugeneson Lyngdoh and Lalramluaha will be embarking on a new journey to Denmark with the intention of providing a platform by giving them access to technology and introduce them to a world class training facility. The duo will be a part of the Denmark based club, FCV Vikings which is a first division football club and is a famous name in the Danish Premier League.
In a recent press conference that was held in Kolkata, Shillong Lajong FC signed an agreement with the Danish Football Club which is the first FDI Investment in Indian Football, initiated by Anglian Holdings Sports and Marketing, a Dubai based, NRI owned Multi National Corporation with diverse global investments.
The General Secretary of SLFC, Mr. M Larsing Sawyan said that "the purpose is to take talented Indian footballers to European Leagues by grooming and developing them from a smaller level to a higher level of international standards". He also said that, "It is a great boost for Indian football because this is the first time that there is an FDI which will help build Lajong into an institution, make them better and thus, making Lajong more competitive".
SLFC is also planning to invite FCV Vikings and some of the top I-League clubs and host a tournament in Shillong which will also help in connecting more closely with the fans.
However, more players will be sent to Denmark to enhance their skills and the Club will be taking care of all the expenses.
Lajong in association with FCV Vikings and Anglian Holdings is in preparation to organize a state-of-the-art international level residential academy for promising and talented footballers of the State and the region. Therefore, Lajong will be equipped with an international standard academy and establish the finest training hub to encourage, support and develop footballers with professional technical guidance from Europe, aided by FCV Vikings.
Janice Lynrah
Media Manager (SLFC)