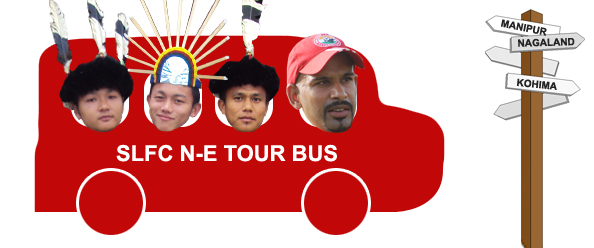 Shillong Lajong Fc tour covered the two states of Nagaland and Manipur starting our journey on the 28th of November and concluding the journey on the 25th of December 2010.
Shillong Lajong FC covered a distance of around 3500 kms in the 27 days .
We conducted coaching clinics for varoius age groups ( u-14,u-15 and u-19's ) and selecting talented players to join our academy in Shillong.
On the days the SLFC Team comprising of player from all the varous teams i.e Seniors, U-19's and U-15 played exbitition matchs against local opponents.
At the end of the tour we selected close to 50 players from all the towns and cities visited to come down to Shillong for the main trails .
Th match results in the various towns/cities are as follows :
Mokokchung : Score : SLFC 6 , Mokokchung XI 0
Dimapur: SLFC 3 , Nagaland Police 0
Ukhrul : SLFC 1 , Ukhrul XI 0 ( 20 min game )
In addition the team also took part and emerged the winners in the CC Meet in Imphal with our players winning the Finals man of the match , Best Goalkeeper and Best Midfielder of the tournament awards.
All in all the tour was a success , a good way to end 2010 with experience that none of us will forget anytime soon.
SLFC North East Tour Camp Photos
[slideshow id=31]