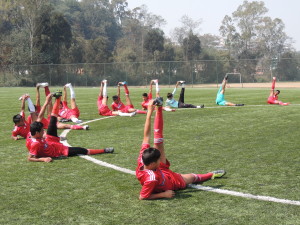 A total of 9 boys from Shillong Lajong FC U-16 Academy have been short listed for the U-16 Coca Cola National Championship to be held in Pune in May 2013.
Players from SAI, Royal Wahingdoh FC, Langsning FC and Upper Shillong Social and Cultural Association have also been short listed in which the final selection will be done on the 4th of May at the 3rd ground polo.
These players have been short listed from the ongoing U-16 Football Tournament organised by the MFPA.
It may be mentioned that Shillong Lajong FC will take on SAI in the finals of the U-16 MFPA on Saturday at the JN Stadium Shillong.
Shillong Lajong FC:
Frolicson Dkhar, Brightstar Rapsang, Jerimon Shylla, Khlainbor Khongsit, Russel Nongkynrih, Ronald Nonglait, Rapiaki Suting, Gideon Lyngdoh and Duncan J.Tham.