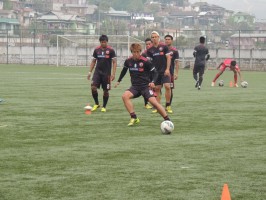 "It will be a tough match tomorrow but the players will be there to perform and deliver their best"; says Head Coach of Shillong Lajong FC, Thangboi Singto in a pre-match Press Conference that was held in the city on Saturday.
The Reds will lock horns against I-League table leaders Bengaluru FC at the JN Stadium Shillong on Sunday at 5pm. The host are coming into this match after a goalless draw against Kolkata giants, Kingfisher East Bengal that was played on the 14th of March in Kolkata.
Meanwhile, Bengaluru FC head into the game after a 3-1 win against United SC last week in Kolkata. Head Coach Ashley Westwood who spoke at the Press Conference said, "We will do our best to put up a good performance."
Lajong suffered a 2-1 defeat in Bangalore during the first leg encounter and Ashley Westwood feels that nothing should be taken for granted as that was the home match for his side but this time they are facing Shillong Lajong in their fortress.
Crossing over, Thangboi Singto's men will be playing their first home game this year, the last match at home was played on the 21st of December against Dempo SC and Lajong ended the year with a 2-1 win over the Goan outfit.
The home team is currently in the 5th position with 26 points and Head Coach Thangboi Singto said, "The boys will go all out for a win. We are back home after almost a month and we hope to pick up the three points tomorrow."
He further said, "The standard of football that Bangalore has set, is surely not going to be an easy match by any means. We have prepared as well as we could."
Come 23rd March, all roads will lead to the JN Stadium Shillong where an exciting encounter awaits the "Lajong Faithfuls" who will be also be hoping that their home team gets the three crucial points and see them finish this season in the top half of the table.