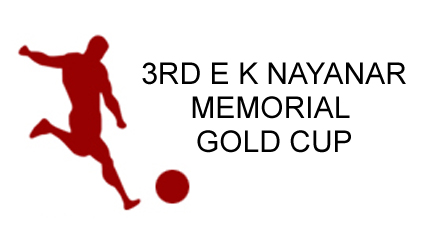 Chirag United 3-0 Shillong Lajong (Jawahar Municipal Stadium, Kannur)
GOALS: 1-0 Edmilson Marques Pardal (8′), 2-0 Gouranga Datta (17′), 3-0 Lal Kamal Bhowmick (79′)
MAN OF THE MATCH: Gouranga Dutta (Chirag United)
MATCH REPORT
Chirag United outplayed Shillong Lajong the third edition of E K Nayanar Gold Cup held in Kannur. It was goals from Edmilson Marques Pardal, the man of the match Gouranga Dutta and the substitute Lal Kamal Bhowmick that sealed the title for the Kolkata outfit.
The match started brightly for Chirag United as they took the lead as early as in the 8'th minute after the Brazilian Edmilson Marques Pardal made a run from midfield and send in a brilliant shot from outside the box to give them the lead. Then in the 17'th minute they doubled the lead through Gouranga Dutta after a cross from the left was superbly finished by the midfielder to stun the Lajong bench. The north east club struggled up front and the Chirag keeper Sandi Nandy was a mere spectator under the bar.
Lajong started the second half better and had plenty of possession. They came close with plenty of free kicks but the back four of Chirag United made sure that they didn't concede any. And in the 79'th minute Chirag sealed the match after a cross from right found Lal Kamal Bhowmick in the box. The substitute's attempt hit the post but the rebound went into the net taking the touch of a Lajong defender.
Edmilson was adjuged as the best player of the tournament and the top scorer with five goals. While the 19 year old Lajong player Lalthummawaia was selceted as the best goal keeper of the tournament. The winners Chirag United received the Gold Cup and a prize money of Rs.3 lakhs while the runners up Shillong Lajong too got a cash prize of Rs. 2 Lakhs.
The prizes were distributed by the Kerala Home Minister Kodiyeri Balakrishnan and the Kerala Football Association President K M I Mather, Secretary K P Sunny and the committee Vice Chairman P Sasi too were present in the occassion.