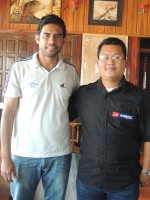 Shillong Lajong Football Club will play its last home game of the season against Mumbai FC in an I-League match at the JN Stadium Shillong on Sunday at 5PM.
A win tomorrow for the Reds, will see them climb to third place of the I-League standings and Coach Thangboi Singto knows that Mumbai FC is a strong side and nothing should be taken lightly.
"We faced Mumbai FC this year during the Federation Cup Group stage and registered a 4-0 win. That was a good win but tomorrow is a new challenge and it will be a difficult game for us. But as professionals we should maintain consistency", he said at the Pre-match press conference which was held in the city today.
The home team is heading into this game after a 3-0 win over top leaders Bengaluru FC last Sunday while the Mumbaikars played a 2-2 draw against East Bengal on Wednesday.
Khalid Jamil's side have not had a good campaign this season and are currently in the 11th position with 21 points.
The Mumbai coach who was also present at the Press Conference said, "This season we have changed many players and it has affected the team which has led to a bad campaign for the team".
He further said, "I used to be very relaxed in the previous seasons to play against Lajong. But this season we have to be in power to beat them. I am immensely impressed with Thangboi and the entire team and to beat them in their home ground will be very difficult."
Youngster Redeem Tlang who made his senior team debut this season was also present today and took the opportunity to thank his head Coach for promoting him from the youth academy to the senior team and giving him the chance that every young footballer dreams of, which is to be part of the senior team and play top level matches and also gain experience and exposure.
"Three points is very crucial not just for the team but also for our fans. This is the first time we have maintained a good position in the league and its only because of the hard work and dedication of our Coach and the entire team along with the support of the fans. We have a good chance to finish in the top three if we win all our remaining matches and we will do our best and put up a good fight tomorrow."