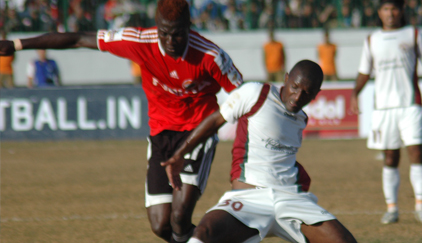 The match against Mohan Bagan was about the youngest club in the I-League against the oldest club in India. The match was the most anticipated match and it was the first match played in Shillong to be broadcasted live. With the crowd backing the team Lajong took the lead after the captain Aibor Khongjee converted a penalty kick to take the lead and sending the crowd into frenzy. Mohan Bagan clawed their way back into the game in the second half by converting the only two clear chances for them in game in the 63rd and the 66th minute.
Marcos from Mohan Bagan was awarded the man of the match.
Tuboi (jersey no: 15) was given the Nokia SLFC Man of the Match Award.