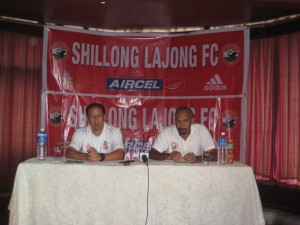 Shillong Lajong Football Club and Salgaocar SC will lock horns on the 4th of May at the J N Stadium, Shillong, in what will be the last game of the season for both teams. Adressing a joint Pre-match press conference, which was held at Hotel Centre Point, Shillong, the home team's Coach, Pradhyum Reddy started off by saying that the team will definitely try its best and give something back to the crowd, which has always been behind the team. While stating that Salgaocar is a great team, it will be a good test for his younger players, and Lajong, as the home team, cannot afford to sit back and should try and finish the league on a positive note. He also said that it will be an entertaining match for the home crowd.
His counterpart, Coach Karim Bencherifa, echoed his comments, saying that the game will be an interesting affair, and on a lighter vein, said that he hoped at least a portion of the crowd will support his team because of Rocus Lamare, the Shillong-born midfielder,and former Shillong Lajong player. Karim also went on to say that Rocus is the perfect example for consistency, and is an ideal role model .He also stated that as the current Champions, the current position of the team can be improved, and attributed the same to the packed schedule. He also complimented the home team on being one of the most well organised and professional teams, along with Pune FC and Salgaocar.
On the pitch, past encounters between the two teams have always been close games, and  expectedly, Friday's game should be no different.