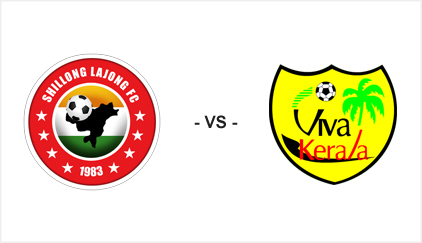 Viva Kerala held favorite Shillong Lajong Football Club to a 1-1 draw in the ONGC I league Round IX match played at jam packed JN Sports Complex,Shillong on Saturday.
Playing a barren first half it was Viva who went ahead in the 63rd minutes of the match when unchecked Sirajuddeen C. tapped the ball in side the goal and during the injury time host equalized through its Nepali striker Anil Gurung.
Lajong had played a dull game before its supporters and were not in the position to penetrate the rivals defenders and Kerala custodian Shahinlal Meloy had hardly any job under the bar in the first half except for one occasion in the 44th minute James Gbilee free kick which re-bounced after hitting the bar .It was just a opposite case for Lajong's keeper Rime as he was tested many a times.
In the 30th minute of the game Seikhohau Tuboi could have scored had he set the ball for unchecked Gurung inside the box but instead he attempted the shot which went way wide off the target.
In the 59th minute Viva's substitute Anish K. P. attempted a back volley but failed to contact the ball .
Four minutes later Sakeer MP took the shot which which got deflected from Rime's palm and unchecked Sirajuddeen made no mistake and placed the ball behind the net giving a lead to visitors .
Conceding the goal Lajong changed its plan and Deniel Bidemi who was till now defending came up in front and made some dangerous move but failed to penetrate the rivals defense as a matter of fact Viva defender Man of the Match .
It was during the injury time that gave relief to Stanley Rozario when Anil Gurung headed home the cross ball from Tubopi to level the score 1-1.