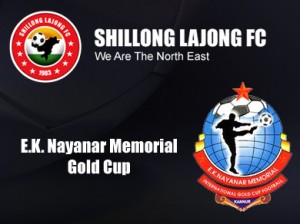 Southern Samity, a second divison club from Kolkata defeated Shillong Lajong FC 1-0 in the IVth Edition of the EK Nayanar Memorial Gold Cup Football Tournament on Friday.
In the first half both sides had equal ball possession but were not able to find their targets.
The solitary goal came from Marcos Pereira of Southern Samity utilizing a free kick in the 62'
Coach Reddy said, "We did not give a good performance as the boys are still trying to adjust to the new formation. They have been playing non-stop and some have been injured which is not an ideal preparation for their next I- League match".
He also said that, "SLFC dominated the first half and were looking very strong. It is good to see young players getting a chance to play at this level. Southern Samity has 3 points and we have 4, if their next game is a draw or fail to win, Lajong will gain an entry into the semi-finals".
Southern Samity who have managed only three points so far will have to play a very crucial match against Army XI on March 17 as a win will ensure a place for the team in the semi-finals. If crashed out Shillong Lajong FC will qualify for the semi-finals.
The first semi-final match will be held on March 17 at 6:45pm.