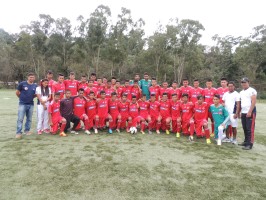 Shillong Lajong Football Club Juniors will play their first game on Friday in the Shillong Premier League 2014 against local arch rivals Rangdajied United Football Club at the JN Stadium Shillong at 3:30pm.
Although the Shillong Premier League is a senior team tournament, the club has faith in the abilities of the youngsters to compete with the local teams. The junior squad is boosted with many new signings done during the beginning of the Summer Transfer Window bringing in boys from the AIFF Elite Academy Goa namely Alen Deory, Vishal Kaith, Issac Vanmalsawma, Joseph Lalfakzuala and Pritam Kumar Singh.
However, Alen Deory, Pritam Kumar, Zodingliana and Redeem Tlang are the four Junior Boys who have been selected to play in the inaugural edition of the Indian Super League and will not be seen in action during the Shillong Premier League this year.
The Lajong Junior squad is very youthful, hard working, skilful, dedicated and is also made up of passionate footballers who have been sweating it all out during their training sessions and are all set to display their performances on the pitch to bring back Glory to the Club with the sole intention to win and lift the Shillong Premier League.
The Shillong Lajong Youth Academy which is one of the most consistent Academy in the country, behind the Tata Football Academy, has been instrumental in transforming and grooming the young players and their achievements at a young age saw them graduate to the Club's Senior team, and most importantly helped them grow into the next batch of football stars, leaving no stone unturned in the quest for precision and excellence.
Undoubtedly, the Academy has been responsible for grooming and developing their skills and talents which have been instrumental in shaping the boys to match the challenging and ever-demanding atmosphere of football in the country.
The Junior Squad is led by Coach Alison Kharsyntiew and he is very confident as the boys gear up for their first match against the Blues. He said, "The boys have improved remarkably and have matured immensely. They have been working hard during their sessions on the training pitch and we will play as a team by being together and united. We are looking forward for a good game against Rangdajied tomorrow and the boys will give their best on the pitch."
The Team:
Goalkeepers
Vishal Kaith
Nitin Meel
Nihal Das
Frolickson Dkhar
Defenders
Nim Dorjee Tamang
SH. Sandeep Singh
Niewkorlang Kyndiah
Mebankhraw Wahlang
Samuel Shadap
N. Rojit Singh
Rakesh Pradhan
SH Dinesh Singh
Khlainbor Khongsit
Midfielders
Nabin Rabha
Joseph Lalfakzuala
Jacob Lalrwangbawla
Wahengbam Angousana Luwang
Lalrammuana
Issac Vanmalsawma
Rupert Nongrum
Hardy Cliff Nongbri
Ksankupar Khongmalai
Forwards
TH. Bipin singh
Shaiborlang Kharpan
Sheen Stevenson Sohktung
Ningombam Sana Singh
TH Hemba Singh
Samuel Lalmuanpuia
Shanbor Jyrwa
Maibam Jimmy Singh