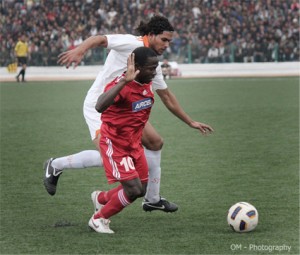 In what was an absorbing and controlled game of football,Sporting Club De Goa narrowly edged out Shillong Lajong Football Club by a solitary goal,courtesy an Adil Khan strike who scored on the rebound off his own shot.The game was  equally dominated by both teams, with Shillong Lajong having better ball possession,especially in the first half.Shillong Lajong created many scoring chances,but failed to convert any of them.
John Menyongar truly led from the front,as he produced a stellar display of footballing magic and virtuosity.The skipper had the best probable chance of the game when he weaved and spun his way around a web of Sporting defenders,but skied the ball over the crossbar,much to the dismay of the many faithful who turned up in large numbers at the J.N Stadium.
The lemon break saw a felicitation ceremony,in which The Honourable Chief Minister Dr.Mukul Sangma was presented a memento by the Meghalaya Football Association,in the presence of other dignitaries.
In the second half,both teams pressed hard for that much needed goal to break the deadlock,and Coach Pradhyum Reddy brought in S.Tuboi for Sushil Kumar in the 67th minute.But it was Sporting Club De Goa who drew the first and  only goal of the match.On the counter attack,Adil Khan unleashed with a right footer,which was parried by the Lajong custodian Ralte,but the ball rebounded back to Adil,who made no mistake in his second try.The ball hit the far post,and trickled into the goal,to silence the stunned crowd.What followed was unrelenting surges of attacks by Shillong Lajong FC,in search for that all important equaliser.Sporting,in the meantime,brought in James and Perreira for De Souza and Peixote,in the 76th and 84th minute respectively.Shillong Lajong also made another change of their own,bringing in Rennedy Singh,for James Giblee,with just a few minutes to play.
The score however remained unchanged at the end of the game,and it was the away team who took back with them all the three points,leaving Shillong Lajong Football Club with back to back losses.