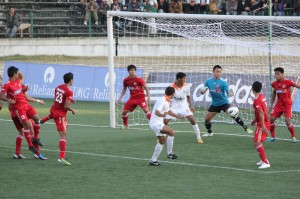 Shillong Lajong Football Club ,after having controlled much of the game, lost to Sporting Clube De Goa  1-2 today, at the J N Stadium , in what was a low-scoring match.
The Reds, who had been in impressive form during the past two home matches ,took control of the game early on, and dominated most of the scoring chances and possession. However,  the lead took  a little later than the near-capacity crowd would have wanted, in the 45th minute, when Friday Gbeneme headed home from a superb cross from the flank. The brimming J N Stadium erupted wildly ,as the teams went inside their respective dressing rooms for  the lemon break.
The second half saw Sporting Clube went into attacking mode as the Goan side pressed for the equaliser. And it did not take long for their efforts to be rewarded, when Kalou Ogba scored from close range from a Sporting corner to beat Lajong custodian Lalthunmawia Ralte.
Almost immediately Lajong made changes in quick succession,with P.C Lalhimthara, Eugeneson Lyngdoh and Johny Menyongar all introduced in search for the winner. The winning goal did came ,but this time it was at the wrong end of the goal. After a mad goal mouth scramble, Dawson Fernandes, latched on to volley the ball past a hapless Mawia.
The stunned crowd,riled as they were ,egged on the Reds,as the search now turned to salvage the game.However all that did not materialise,as Sporting hung on to claim home all three points , thus handing Shillong Lajong their first home loss of the season.
The Reds , will now look to turn the fortune tables on their next home match against Prayag United,on the 4th November 2012.
Both Coaches agreed that the match was  a good display of football and the packed crowd got what they had came to see for,-a good match of football, played between two equally matched opponents and both agreed that wins and losses are all part of the game, and at the end of the day, football gets a lift, as long as the+ people come and watch the matches.