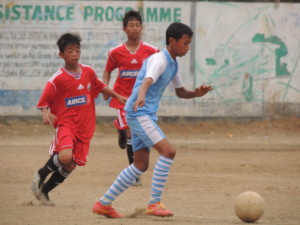 Shillong Lajong FC Under-14 boys registered a 9-1 win over Pohkseh in the SSA Under-14 Football Tournament which was held at the Polo Ground on Friday.
In the very first minute of the match Shillong Lajong conceded an own goal.
It was in the 3rd minute of the match Lajong levelled the score when Badon Ryngkat found the back of the net.
Freestar and Batskhem also netted in the 8th, 25th and 28th minute respectively and the boys in Red were leading 4-1 during half time.
After the break, Guidingstar scored twice in the 30th and 36th minute while Ardonald, Everbrightson and Aaron Roy Nongrum also scored in the 35th, 55th and 60th minute.
With this win, Shillong Lajong have now entered the semi-final round of the Under-14 Football Tournament organised by Shillong Sports Association.