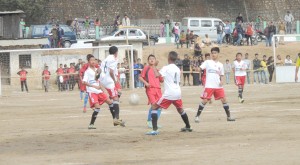 SLFC 1 – 1 LUMMAWBAH (U-14)
The U-14 Football Tournament, organised by the Shillong Sports Association kicked off today the 30th of January at Polo Grounds, Shillong.
Shillong Lajong FC U-14 team took on Lummawbah on the opening of the U-14 football tournament.
Shillong Lajong dominated the proceedings and deservedly took the lead when Ardonald Kukalang found the back of the net in the 18th minute.
Lajong were leading 1-0 during half time.
In the second half both sides equally shared possession with Lajong having more chances on goal but failed to convert.
The boys from Lummawbah equalised just few minutes before the referee blew the final whistle and both sides had to share points on the opening day of the U-14 Football Tournament.