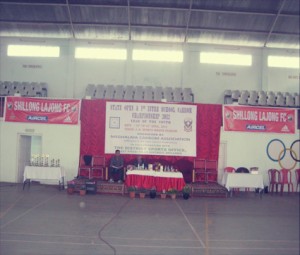 The Meghalaya Carrom Association organised a four day State Open & 1st Inter School Carrom Championship 2012 which was sponsored by Shillong Lajong Football Club.
The event concluded on the 14th of April 2012 at JN Sports Complex on Saturday and it got good response from the participants who came forward to be a part of the event.
Children from various schools and state carrom players also participated in the championship.
The chief guest of the closing ceremony was Honourable Deputy Chief Minister in charge of Sports and Youth Affairs, Shri. Bindo M Lanong who was really impressed to see people actively participating in the competition. He also distributed prizes to the winners.
The list of winners are as follows:
BOYS SUB-JUNIOR:-
Winner- Johnferson Marngar (Sengkhasi H.S.S)
Runner up- Eriston Dkhar (St. Francis D'assisi School)
BOYS JUNIOR:-
Winner- David Nongsiej (Buddha Vidya Niketan S.S)
Runner up- Formee Kharmawphlang (St. Dominic Savio H.S.S)
GIRLS SUBJUNIOR:-
Winner- Anisha Kharkongor (St. Aloysius School)
Runner up- Agricia Marwein (St. Francis D'assisi School)
GIRLS JUNIOR:-
Winner- Lavinia Khongsit (Shullai Progressive School)
Runner up- Lamsha Mary Jana (St. Aloysius School)
WOMEN SINGLES:-
Winner- Sukmon Mukhim (Nongthymmai Carrom Club)
Runner up- Lydia Kharmujai (Nongthymmai Carrom Club)
MEN SINGLES:-
Winner- Robin Ranee (Synroplang S.S.C.C)
Runner up- Th. Robert Singh (Nongthymmai Carrom Club)