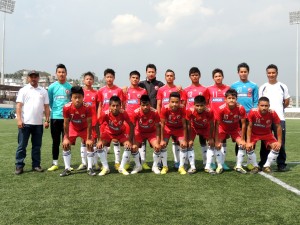 Shillong Lajong FC registered a 2-1 win against Upper Shillong Sports Social & Cultural Association in a semi-final match, played out at the JN Stadium Shillong on Saturday.
Shillong Lajong FC deservedly took the lead when Hardycliff Nongrum netted in the 29th minute.
The young boys from Upper Shillong pressed hard for the equaliser but failed to convert and Shillong Lajong went into the break with a one goal cushion.
Upper Shillong levelled when Rangdajied Shabong netted in the 53rd minute before Jerimon Shylla scored the winning goal for Lajong in the 69th minute.
With this win Shillong Lajong FC have advanced to the finals and will take on SAI in the finals of the Under -16 MFPA at the JN Stadium Shillong on Saturday.