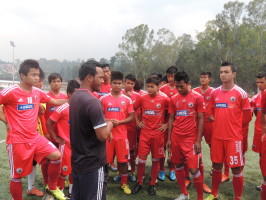 Junior Reds Depart For I-League U19 Final Phase
Shillong Lajong FC Under 19 team has departed today for the final round of the Under19 I-League which is scheduled to kick off on the 21st of April 2014 in Jamshedpur.
The Junior Reds played against Royal Wahingdoh, Rangdajied United & Green Valley FC and remained undefeated throughout the North East leg to qualify for the final round.
The Shillong outfit will represent the North East in the Grand Finale of the Tournament under the watchful eyes of Head Coach Alison Kharsyntiew, Team Manager Sambha Shallam and Team Physio Iaioo Passah.
The young colts that had a successful time in 2013 by winning the prestigious Golaghat Football tournament (Assam) Championship will look to carry their incredible form in the upcoming I-League tournament.
Shillong Lajong Football Club wishes the "Junior Reds" the best of luck and hope they return home with the I-League Under 19 championship title.
The Squad travelling to Jamshedpur to compete in the tournament are as follows:
Goalkeepers: Nitin Meel, Kunzang Bhutia
Defenders: Nim Dorjee Tamang, Rojit Singh, Rupert Nongrum, Sandeep Singh , Jimmy Singh, Rakesh Pradhan, Dinesh Singh
Midfielders: Nabin Rabha, Hardy Cliff Nongbri, Prabal Deka, Lalrammuana, Angousana, Zodingliana Ralte, Ksankupar Khongmalai
Forwards: Shaiborlang Kharpan, Bipin Singh, Redeem Tlang, Shanbor Jyrwa
Fixtures:
 S.No.

DATE

HOME

AWAY

CITY

ROUND

KO Time

1

21-04-2014

SESA

v

 SLFC

JSR

1

9:00 AM

2

21-04-2014

KEB

v

TFA

JSR

1

4:00 PM

3

21-04-2014

ANMA

v

HFC

JSR

1

4:00 PM

4

23-04-2014

HFC

v

 SLFC

JSR

2

4:00 PM

5

23-04-2014

TFA

v

ANMA

JSR

2

4:00 PM

6

23-04-2014

SESA

v

 KEB

JSR

2

9:00 AM

7

25-04-2014

SLFC

v

TFA

JSR

3

9:00 AM

8

25-04-2014

HFC

v

 SESA

JSR

3

4:00 PM

9

25-04-2014

ANMA

v

KEB

JSR

3

4:00 PM

10

27-04-2014

SLFC

v

ANMA

JSR

4

4:00 PM

11

27-04-2014

KEB

v

HFC

JSR

4

9:00 AM

12

27-04-2014

SESA

v

 TFA

JSR

4

4:00 PM

13

29-04-2014

SLFC

v

KEB

JSR

5

9:00 AM

14

29-04-2014

SESA

v

 ANMA

JSR

5

4:00 PM

15

29-04-2014

TFA

v

HFC

JSR

5

4:00 PM

SESA

Sesa Football Academy (Goa)

SLFC

Shillong Lajong Football Club

KEB

Kingfisher East Bengal

TFA

Tata Football Academy (Jamshedpur)

ANMA

AIFF Navi Mumbai Academy

HFC

Hindustan FC (Delhi)